The capital goods industry is one of the key industries that have a global impact on society. Namely, the career goods industry focuses on producing other goods or services we use daily. Career goods can be used to produce both consumer and investment goods.
The most common examples of capital goods include manufacturing machinery, equipment, vehicles, and tools, which are then used to produce cars, computers, clothing, etc.
Although careers in this sector are numerous and belong to different specialties, they're all meaningful, necessary, and crucial. These features make any career in capital goods an outstanding choice. Whether you're looking for an entry-level position or you already have some experience that could help you land an even better opportunity, there's plenty of room in career goods for everyone.
What do capital goods jobs pay today, and what are some of the best-paying jobs in capital goods? Here's everything you need to know about the current state of the industry as well as what you can expect in the future.
What are some of the most common jobs in capital goods?
Since the capital goods industry is incredibly diverse, there are various jobs in this field. Each job position is unique and crucial for the entire sector, so there are no jobs in the capital goods field that are more important than others.
Nevertheless, that doesn't mean there's an equal demand for all positions. Simply put, some positions are more common and popular, usually because they include a competitive salary, require special knowledge or a particular skill set, or need more people as part of the workforce.
Some of the most common jobs in capital goods include those mentioned below.
Managers
Engineering, sales, marketing, and training and development managers are some of the most sought-after managerial positions in capital goods. They oversee all employees and their tasks to ensure everything's going according to plan.
Engineers
Electrical, mechanical, and industrial engineers are experts in their field and are responsible for some of the most complex tasks in the capital goods industry.
Developers
Software and other developers are often the brains behind every operation because they develop efficient and effective processes.
Analysts
The role of analysts is to collect various data, analyze it, and make conclusions that would make different areas of the capital goods industry more streamlined.
Inspectors
Inspectors, including quality control inspectors, have the primary task of ensuring all capital goods meet certain standards. Some inspectors aren't focused on the products or services but rather on employees.
Job outlook
To understand better what it's like to work in the capital goods industry and answer the question – "What do capital goods jobs pay?" – it's a good idea to review the job outlook.
It's safe to say the United States is the world-leading supplier of capital goods. Besides playing a major role in the capital goods market for a very long time, the export prices for US capital goods increased by 3.7% in 2021 due to high demand.
That's not all. The job outlook for capital goods is expected to grow between 4% and 22% over the next 10 years, proving that the capital goods sector is on the rise. As a result, more job and career opportunities will also be available, which signals a bright future for everyone interested in joining the workforce in capital goods.
List of best-paying jobs in capital goods
The capital goods industry has some excellent paying jobs, and you're probably interested in finding out more, so:  "What do capital goods jobs pay?" Well, here is a list of the best-paying jobs in capital goods right now.
Sales engineers
The main responsibilities of sales engineers include generating high-quality leads, following up on potential sales, negotiating prices, arranging deliveries, securing orders, and renewing them. Sales engineers need a complete understanding of capital goods to sell them. Their average salary is around $110,000
Mechanical engineers
The role of a mechanical engineer is to design, develop, and test machinery used to produce capital goods. Mechanical engineers ensure the manufacturing processes meet the industrial standards and clients' expectations. Their average salary is around $90,000 per year.
Industrial designers
Industrial designers are also part of the capital goods sector – their job is to create and develop concepts for different products manufactured in the capital goods industry. Whether they're responsible for developing concepts for appliances, cars, or toys, they must combine different areas of business, engineering, and art. The average salary of an industrial designer is $89,000.
Engineering managers
An engineering manager plans, directs, and coordinates engineering projects that are taking place in a company producing capital goods. Since they are responsible for leading a team of engineers, they need to have a degree in engineering and years of work experience in the field. The average salary of engineering managers is $150,000.
Marketing managers
Marketing managers must increase interest in capital goods products and motivate more customers to place an order. They often work together with sales representatives to better understand which areas need better marketing to increase sales. Their average salary is $141,000.
Sales managers
Similarly to other managers, sales managers also need to lead a team of employees – in this case, a team of sales representatives. They need to understand the entire production process of capital goods, which will allow them to evaluate marginal costs related to manufactured products. The average salary of a sales manager is around $132,000.
Software developers
Software developers are in high demand right now, so there's no wonder they're one of the best-paying jobs in capital goods. They create all kinds of programs and apps that capital goods companies use. The purpose of these software solutions is to make capital goods processes more efficient, profitable, and effective. The average salary of a software developer is $110,000.
Electrical engineers
An electrical engineer takes care of the electrical infrastructure within the capital goods company. They design and fabricate the infrastructure to allow all production facilities to operate seamlessly. Besides that, electrical engineers can also design and build electrical components of capital goods products. The average salary of an electrical engineer is $103,000.
Manufacturing directors
A manufacturing director is the head of the manufacturing department. They need to know everything happening in the manufacturing sector because they oversee the manufacture of products and must also ensure all quality, production, and performance standards are met. Additionally, they're responsible for meeting financial, quality, safety, and delivery goals.
What do capital goods jobs pay for manufacturing directors? An astonishing $180,000 per year.
Robotics engineers
As one of the newer positions, a robotics engineer creates, tests, configures, and optimizes robots and various robotic systems. Robotics engineers are responsible for making robotic machines safe, dependable, accurate, and reliable. Their average annual salary is $95,000.
Types of companies operating in the industry?
As previously mentioned, capital goods are a large and diverse industry that unlocks some of the greatest job opportunities. Many companies operate in this industry, even though they manufacture completely different products and services. Still, some key types of companies in the capital goods industry are mentioned here.
Machinery
The machinery sector focuses on the development of fixed or mobile machinery technologies. Industrial machines are dedicated to obtaining or transforming raw materials into capital goods.
Since the machinery companies produce products and tools used by all the other industries, they're an essential part of the capital goods sector. Namely, the machinery companies enable all the other companies to produce their products, which would otherwise be next to impossible.
Therefore, machinery companies are responsible for developing light or heavy industrial machinery. They can use different technologies to produce machines, whether they incorporate mechanical, electric, robotic, thermal, or hydraulic input.
Electronics
Companies in the electronics capital goods sector are responsible for manufacturing electrical components that are further used to create other products, such as connectors, cell systems, system components, and various computer accessories.
Capital goods companies in the electronic field usually develop, test, and manufacture products that are later used for mobile devices, computers, circuit boards, televisions, and other technologies. Companies in this industry also manufacture electrical and electronic equipment, including medical monitoring devices, communication equipment, and navigational equipment.
Electronics capital goods companies usually work with brass, copper, alloy steel, stainless steel, steel tubing, plastic, and other materials.
Chemicals
Companies in the chemicals sector are another incredibly important part of the capital goods industry. Such companies produce different chemicals and chemical solutions, which are then used to create final products.
Considering the chemical industry contributes to almost all sectors of the economy, producing these solutions is crucial.
Once capital goods companies in the chemical industry produce desired chemicals, they can then be used to produce various items. These include drugs, skincare products, cleaners, toilet goods, industrial organic chemicals, agricultural chemicals, paints, and numerous other chemical products.
Textile
Textile companies are another major player in the capital goods industry. These companies aren't responsible for creating the final clothing products. Instead, they mainly work with the production of cloth and yarn.
Capital goods clothing companies work with raw materials, which can be natural, semi-natural, or synthetic. Synthetic materials are usually made with products from the chemical industry.
In addition to producing cloth and yarn, textile companies are also concerned with the design and distribution of textile goods. Once they're finished, clothing companies can purchase textiles to manufacture different garments or any other items made from textiles.
Automotive
Finally, automotive companies are another big part of the capital goods industry. Automotive companies are responsible for manufacturing components used to produce cars and other motor vehicles. Some components produced by automotive capital goods companies include engines, bodies, batteries, and various other parts that are essential for motor vehicles.
While many existing car and motor vehicle brands have a separate department responsible for producing their own automotive capital goods, some automotive companies only produce car parts and sell them to companies that then use these parts to manufacture vehicles.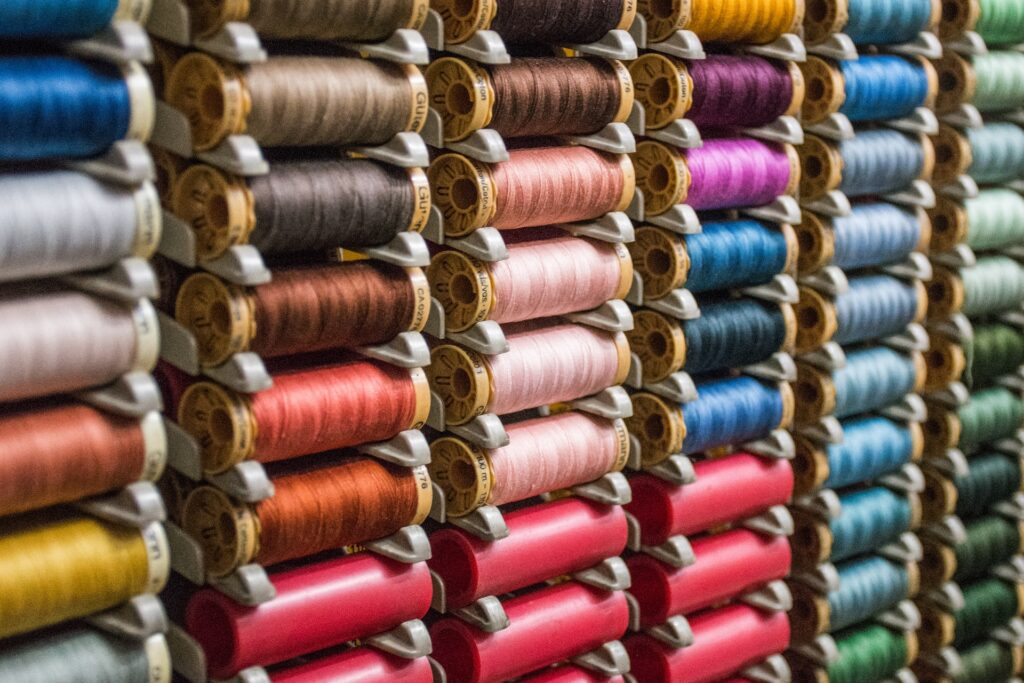 Companies hiring capital goods employees
Since the capital goods industry is constantly developing and growing, numerous companies worldwide are looking for capital goods employees to join their teams. Some of the largest companies in this industry are in constant need of more workers, including those mentioned here.
ABB Limited: a Swedish-Swiss corporation that is leading the global industry in electrification and automation;
Boeing: an American aircraft industry company that designs and manufactures airplanes, satellites, rockets, and missiles;
General Electric: an American multinational conglomerate company working in the power, renewable energy, healthcare, and aviation industries;
Honeywell International Inc: an American conglomerate corporation building technologies, working in aerospace, designing performance technologies and materials, as well as productivity and safety solutions;
Lockheed Martin: an American technology corporation with global interests in aerospace, arms, defense, and information security;
Union Pacific: a US-based transportation company that operates a freight-hauling railroad across 23 US states.
All the companies mentioned above offer competitive wages and salaries to their employees, which are strengthened with attractive bonus plans, good retirement plans, and countless other benefits.
What do capital goods jobs pay on average?
What do capital goods jobs pay approximately?
The average annual pay for people working in capital goods is around $100,000. Engineers, software developers, and especially managers are some of the best-paying jobs in capital goods. Employees can earn even more than $100,000 annually in the capital goods industry.
Nevertheless, some entry-level positions might offer an annual salary below $100,000, but progress in this industry is always an option. Even if you apply for an entry-level job, you can easily reach that $100,000 mark as you gain more experience in the field and climb the corporate ladder.
Future potential
The capital goods industry isn't only an excellent career choice today, but it's also expected to be one of the leading industries in the future as well. It is evolving and progressing rapidly, with new technologies that require employees in capital goods to keep coming up with better, improved solutions that other companies can use to create their own products.
As the capital goods field will only become bigger in the future, this sector has a lot of job potential. The future potential of the industry looks very promising, and now is the perfect time to find a job in capital goods.
Is it good to work in the capital goods industry?
Working in capital goods isn't easy. It's a job that incorporates plenty of hard work and comes with numerous responsibilities. Not everyone can work in capital goods, considering just how demanding some jobs in this industry can be.
However, hard work definitely pays off and is awarded. Capital goods companies offer above-average salaries, attractive bonus plans, excellent retirement plans, health insurance, life insurance, enough vacation days, and numerous other benefits that enable you to lead a happy life.
Therefore, we can say that working in the capital goods industry is worth it.
Conclusion
Capital goods is a large industry, and it's no wonder people are interested in answering the question – "What do capital goods jobs pay?" From reviewing the best-paying jobs in capital goods to examining the key types of companies found in this industry, we covered all the crucial details about what it's like to work in capital goods today and what you can expect from the field in the future.